Congratulations to the following Carrington Elementary Student of the Quarter recipients: Kindergarten Laiken Mattson (other nominations were Daudi Musa, Emmie Lura, and Rhett Beach) 1st Grade nominations were Hudson Weir & Luke Skadberg 2nd Grade Benjamin Leadbetter (other nominations were Gracyn Lura, Rylee Kollman, Parker Mattson, and Raegan Harildstad) 3rd Grade Rylee Partlow & Carson Hewitt (other nominations were Briggs Garber, Everly Anderson, Isaiah Gacho, Noah Gussiaas, and Miles Thurlow) 4th Grade Ernest Clark-Mangus & Adeline Beal (other nominations were Katie Bohl, Graham Kuginskie, and Weston Irmen) 5th Grade Trey Thomas (other nominations were Clayton Eversvik, Jessa Larsen, Jayce Kollman, Nathan Boeshans, Addison Thompson, and Kaydri Cabler) 6th Grade Mya Neis (other nominations were Laken Johnson, Skarlet Ekren, Brina Wolksy, Jamisyn Schroeder, and Alexa Biel) The Carrington Elementary School Student of the Quarter Program was established to recognize individual students who demonstrate to their peers: Positive Attitude Kindness Respect Responsibility Safety Empowerment Problem Solving Positive Choices -outstanding academic achievement is not a requirement, however Academic Effort is considered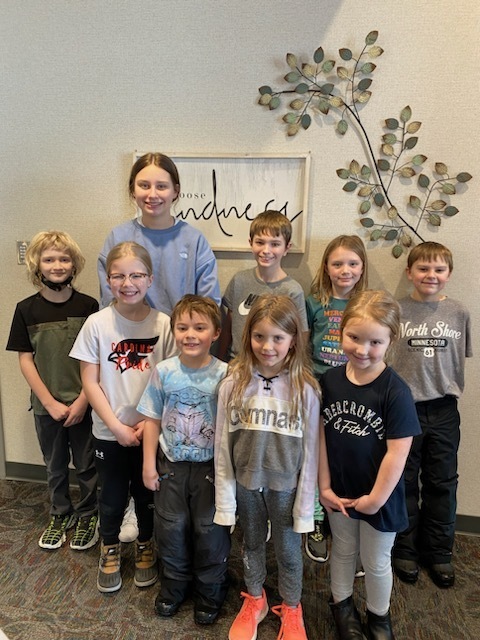 These readers have already read 2 million words this school year!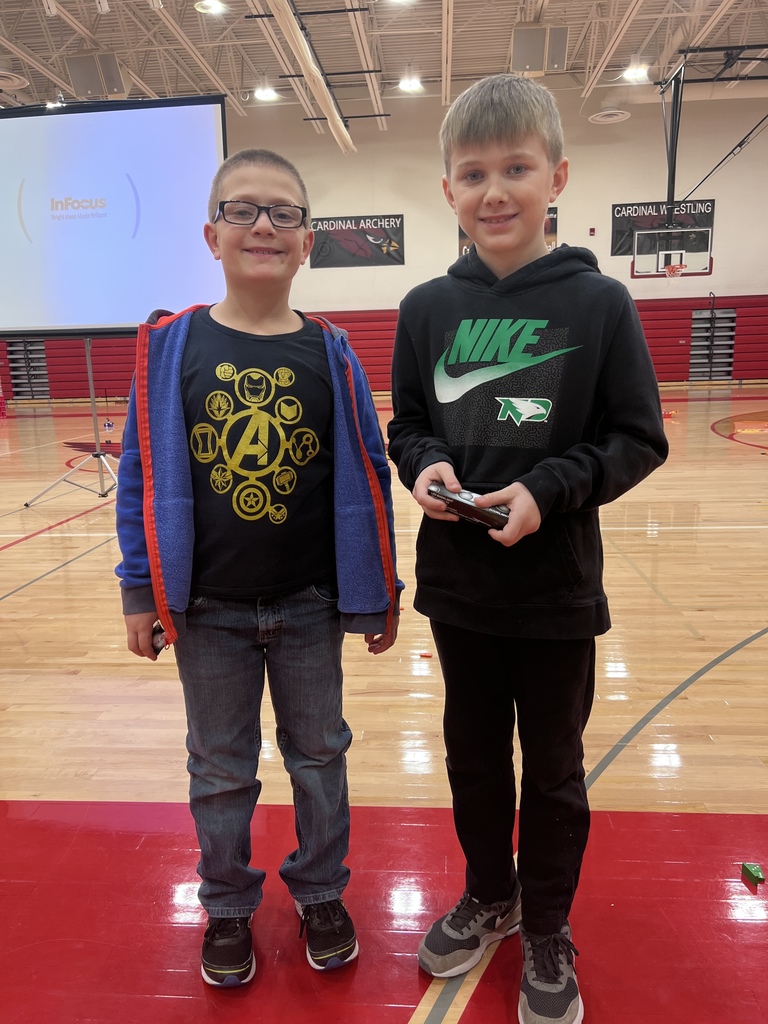 Congrats to our newest millionaire readers!
Congratulations to our 2nd Quarter B Honor Roll 6th graders!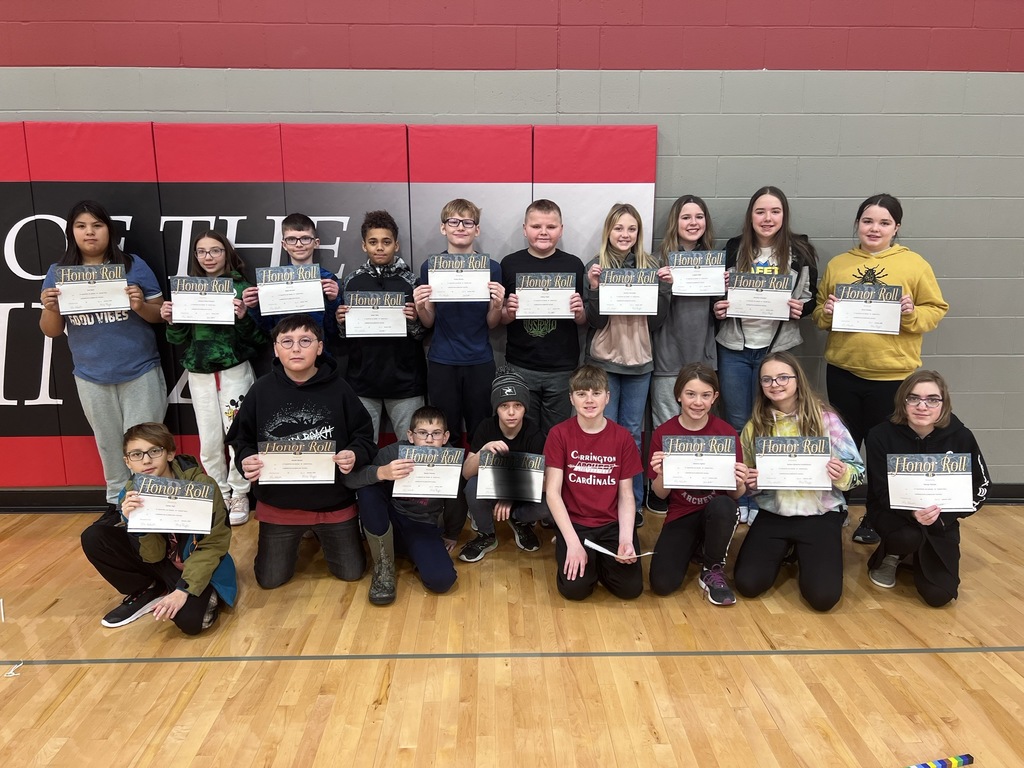 Congratulations to our 2nd Quarter A Honor Roll 6th graders!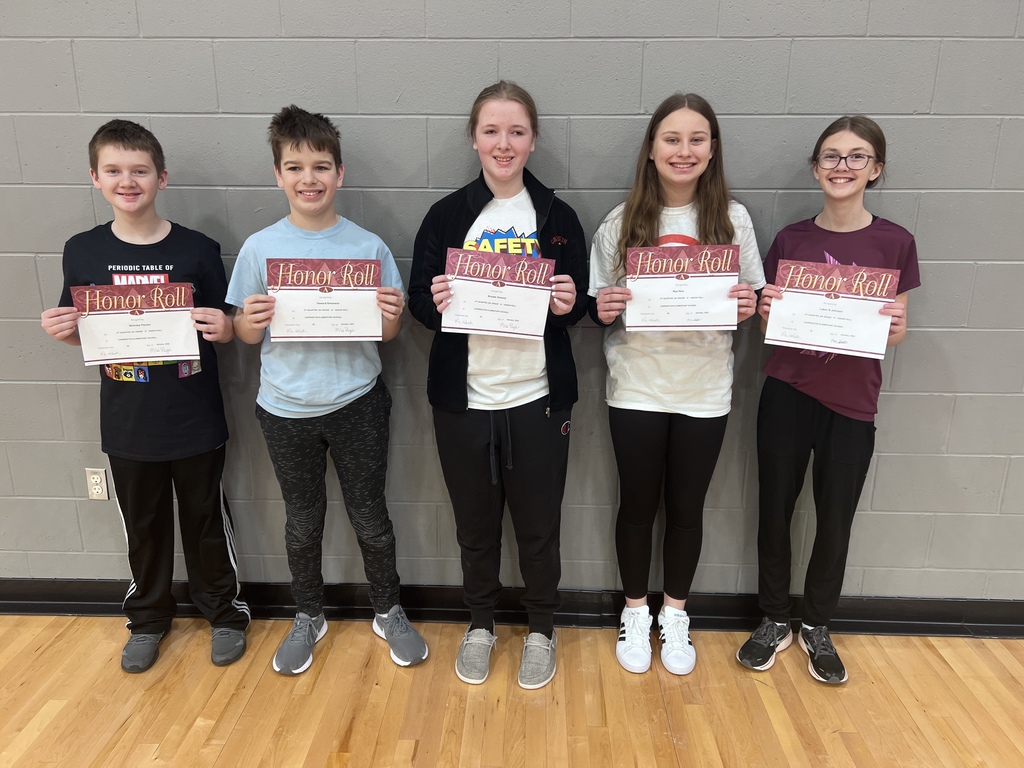 Carrington Elementary is celebrating the 100th Day of school today! At our school assembly students created with objects of 100!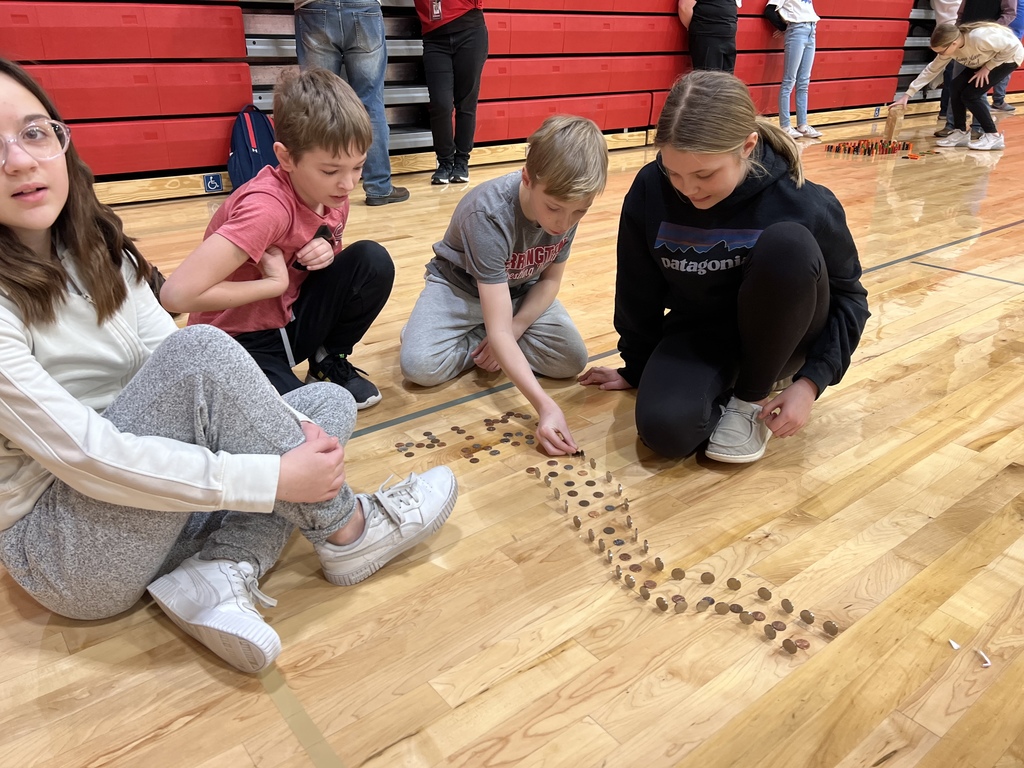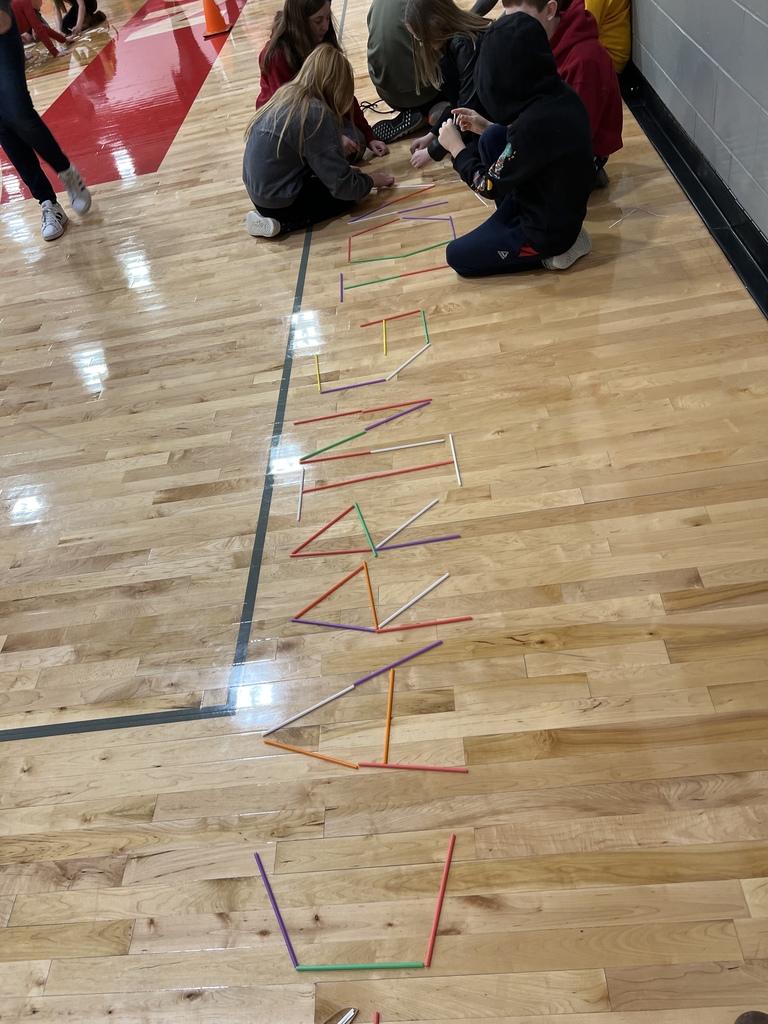 PreSchool Screening Dates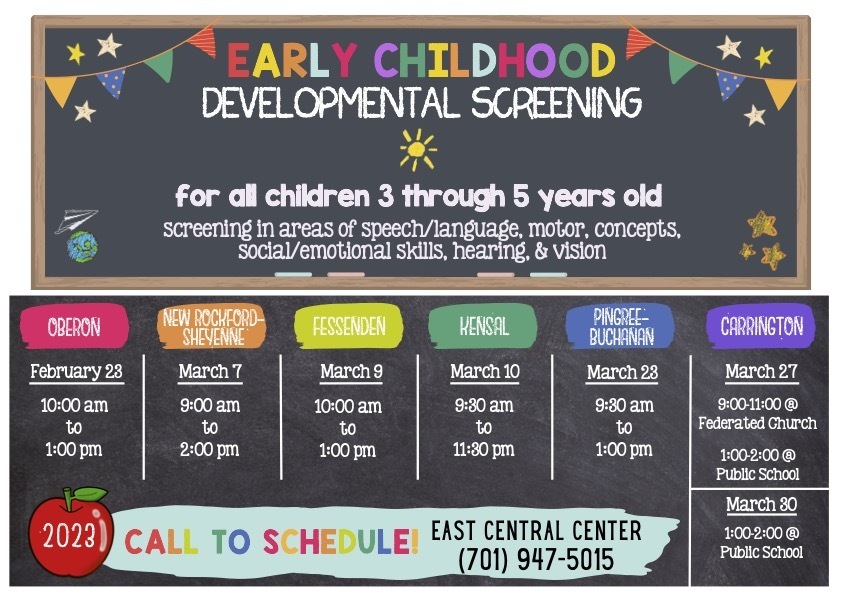 Parents with children who turn 5 by July 31, 2023, and who are planning to enroll them in Kindergarten at Carrington Elementary School for the 2023-2024 school year, please call the elementary office, 652-2739, to be sure we have the information on our class list. More information regarding registration will be forthcoming.
Our Kindergartners have been trying new snacks and foods through the One the Move to Food Adventures program provided through Donna Anderson of Foster County Extension!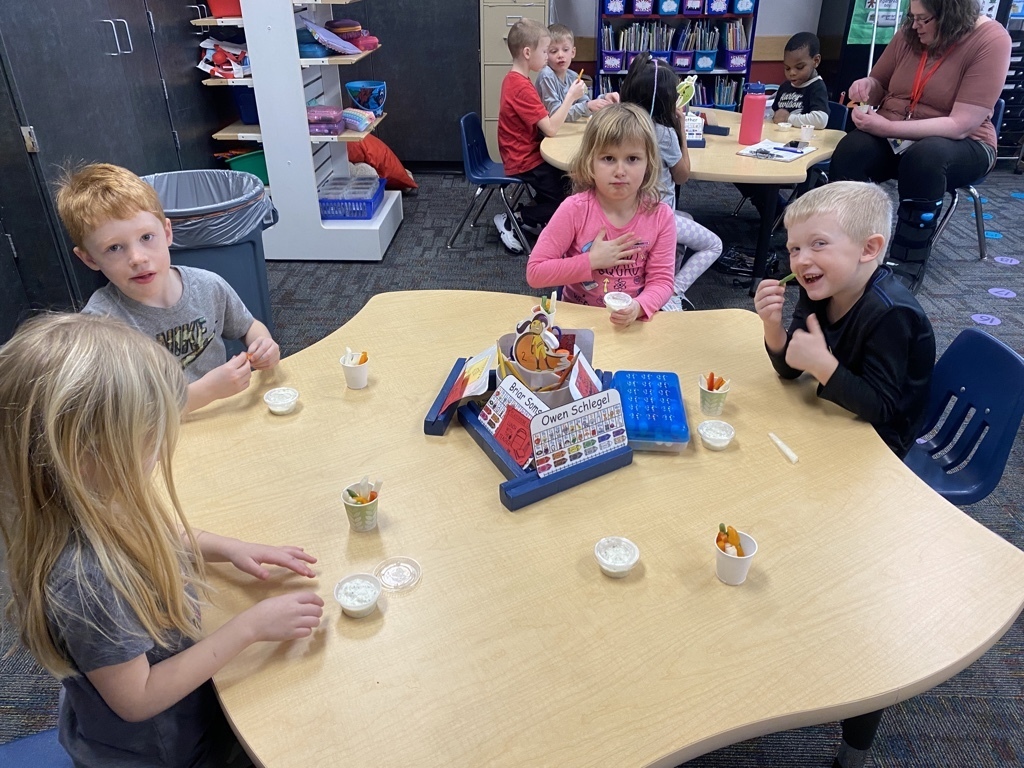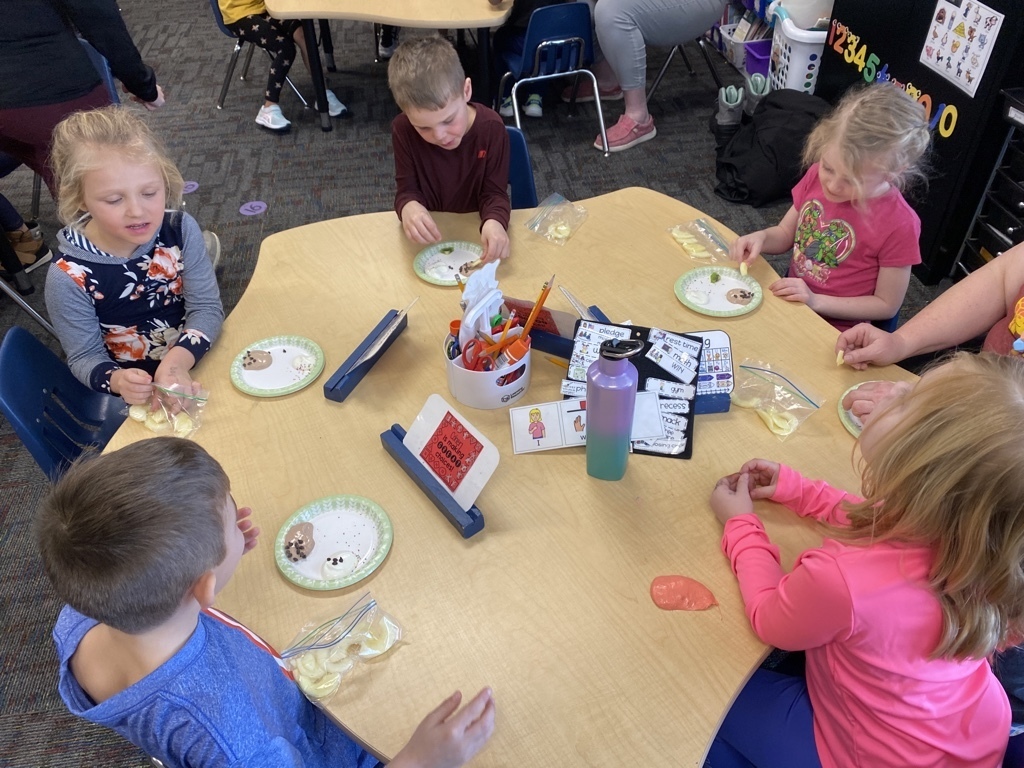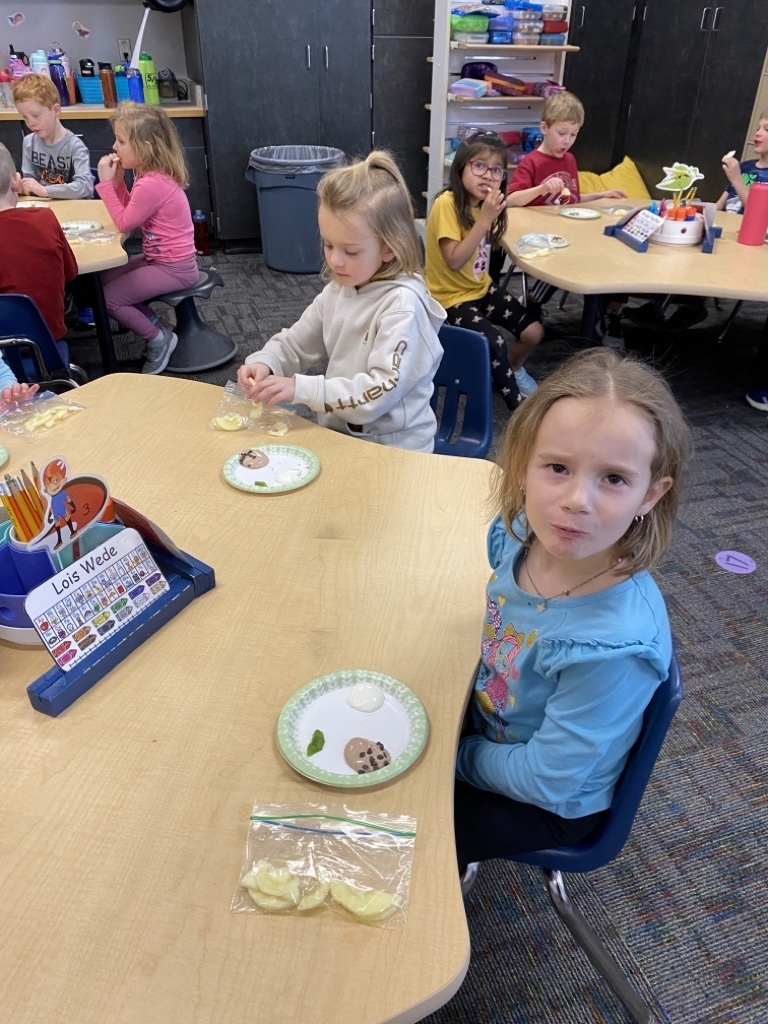 Shirt orders for Emerson have come in and are available to be picked up in the High School office, the office will be open until 5p.m. Please pick up your orders before Thursday. If other arrangements need to be made, please call the school.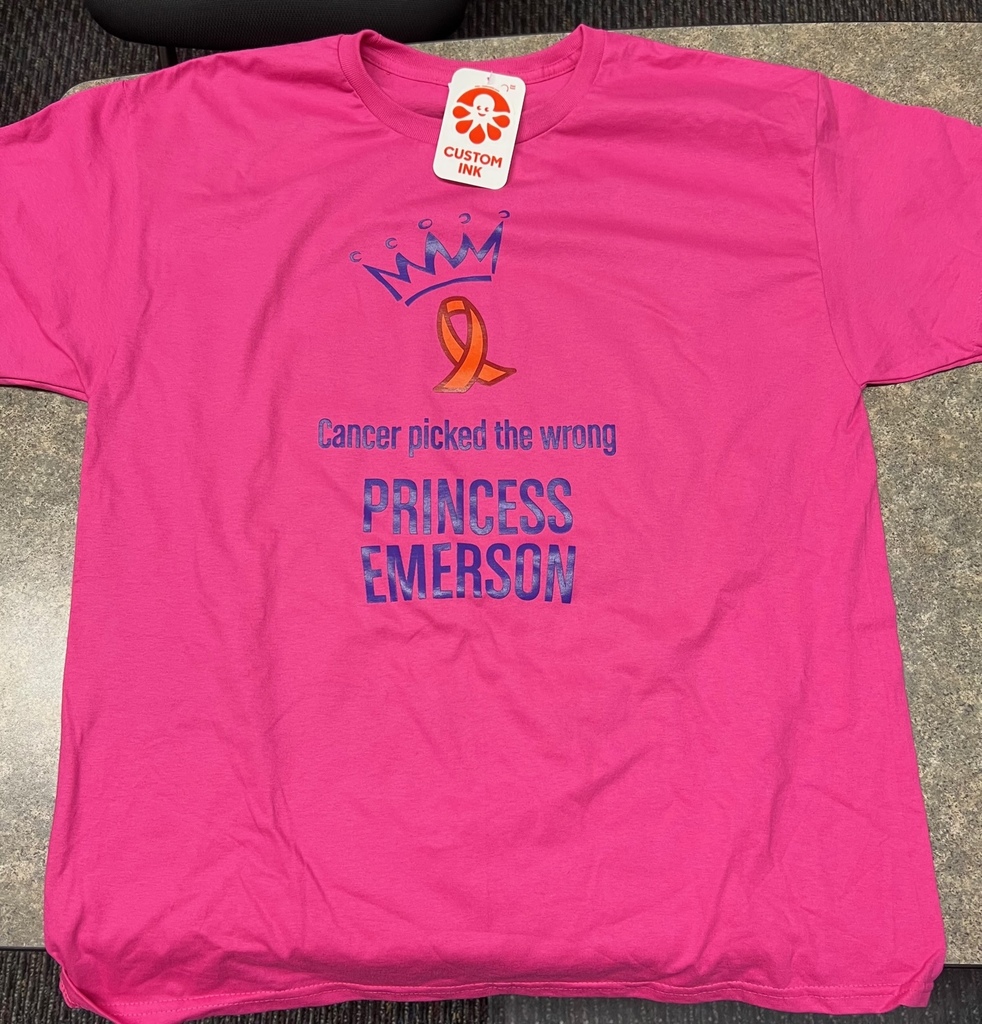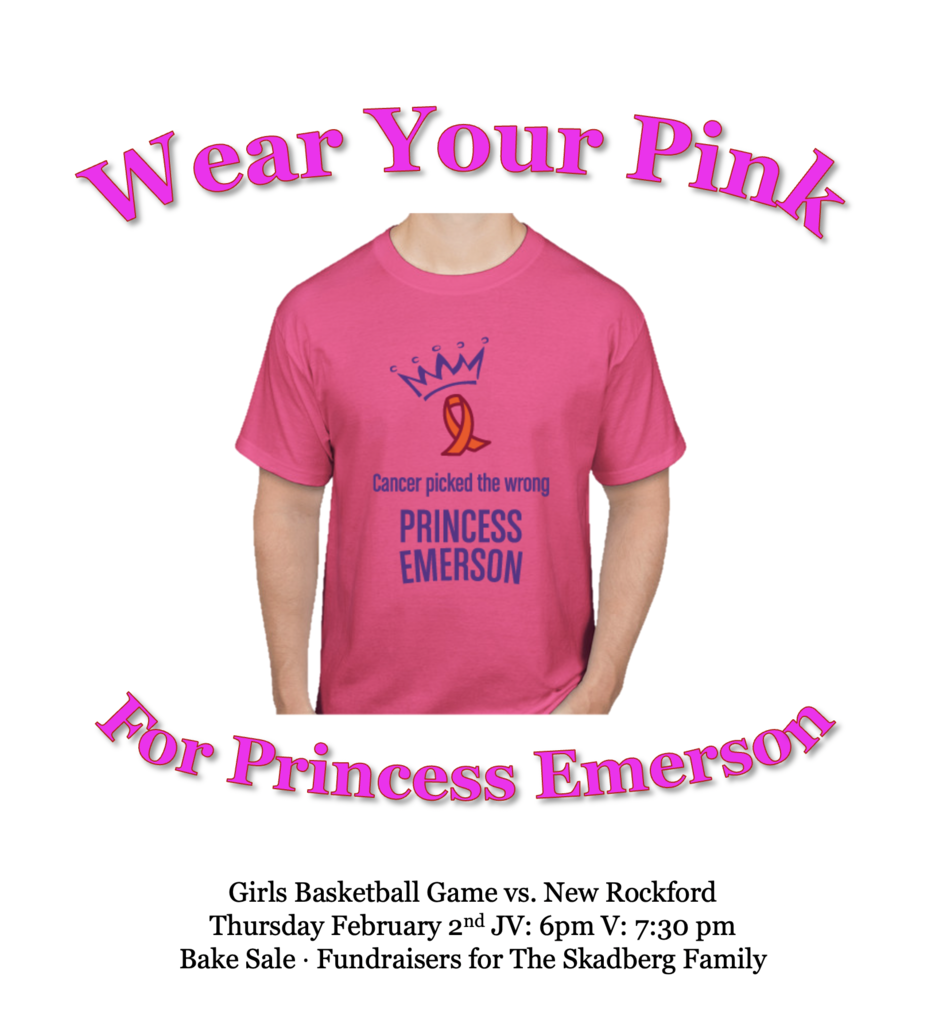 Wear Pink for Emerson!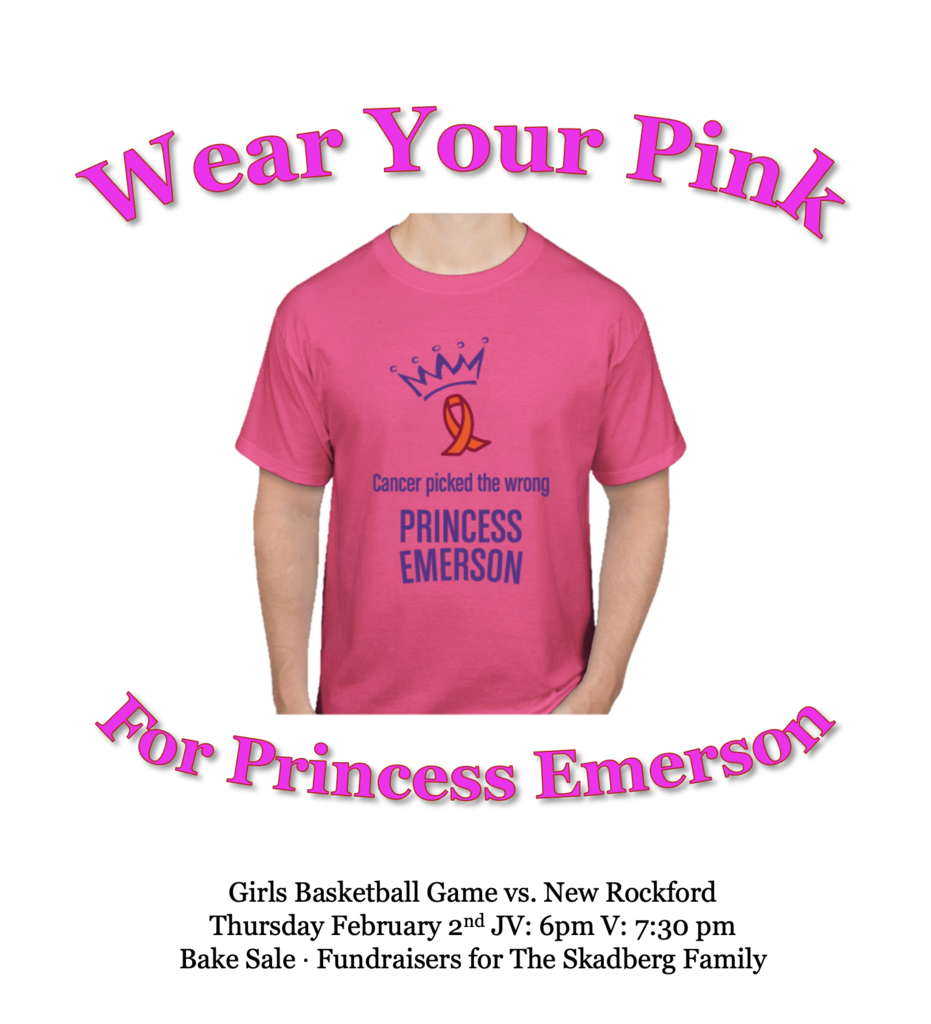 Mrs. Helm and Ms. Michaelson recognizing the Dance team at a student assembly this morning for their very successful State Dance performances. The team won Championships in Jazz, Pom and Kick. Good Job Team!!


Congratulations to the Carrington Cardinaires Dance Team! 1st place in Jazz, Pom, and High Kick! Way to go!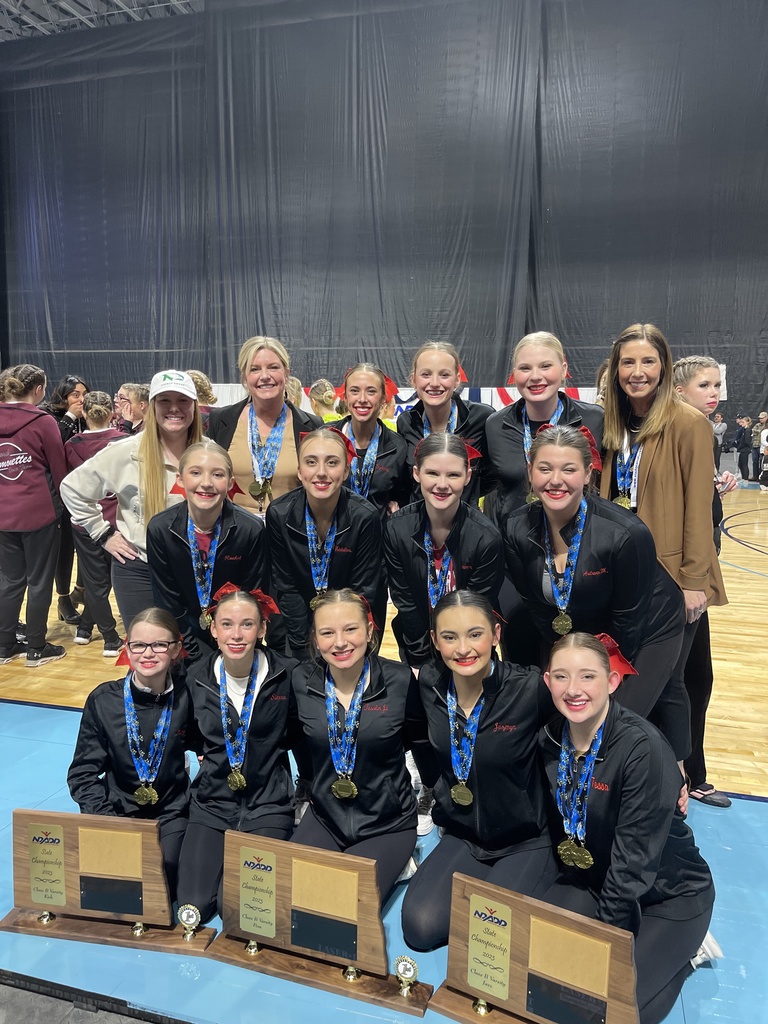 State Dance and our Carrington Cardinaires are knocking this competition out of the park! Their enthusiasm and energy was contagious today! CPS is so proud of them!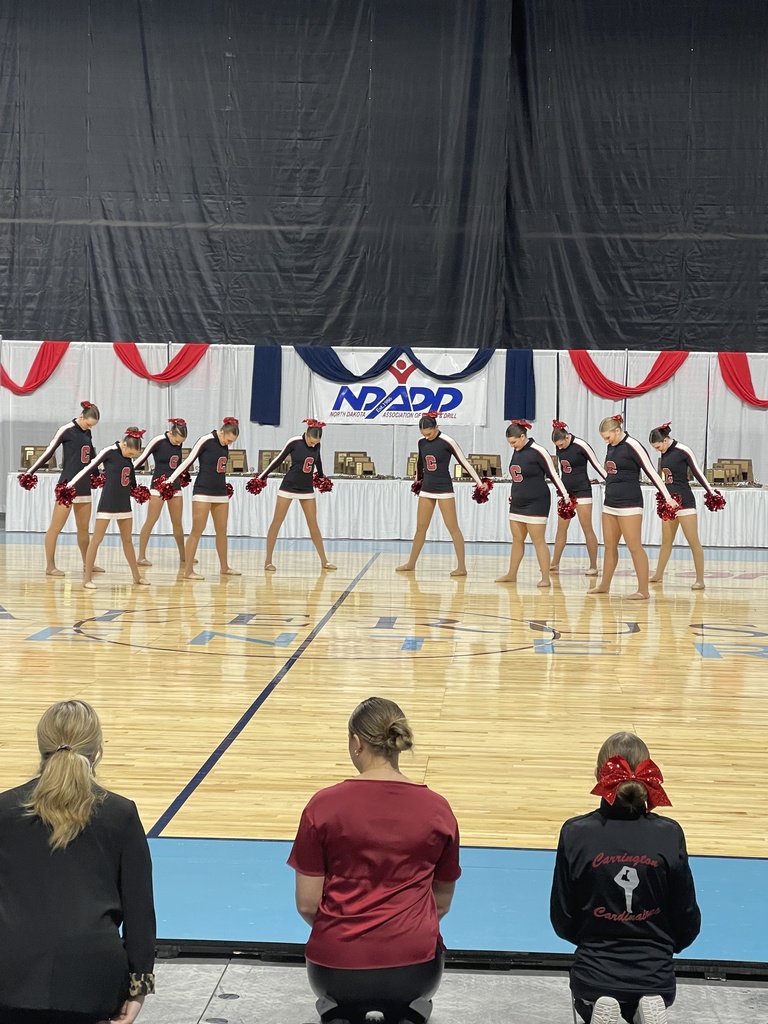 Congratulations to Lindsy Pavelko and Tressa VanRay for being nominated for coaches of the year in dance. Also, Good Luck to the Dance team at State this weekend!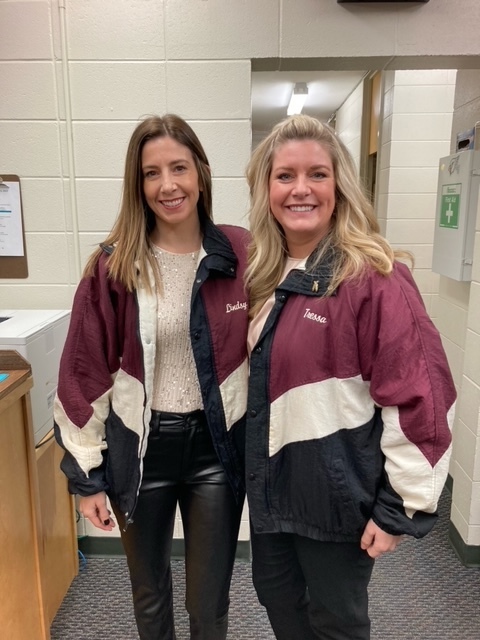 CPS is hosting Todd Whitaker today for staff professional development!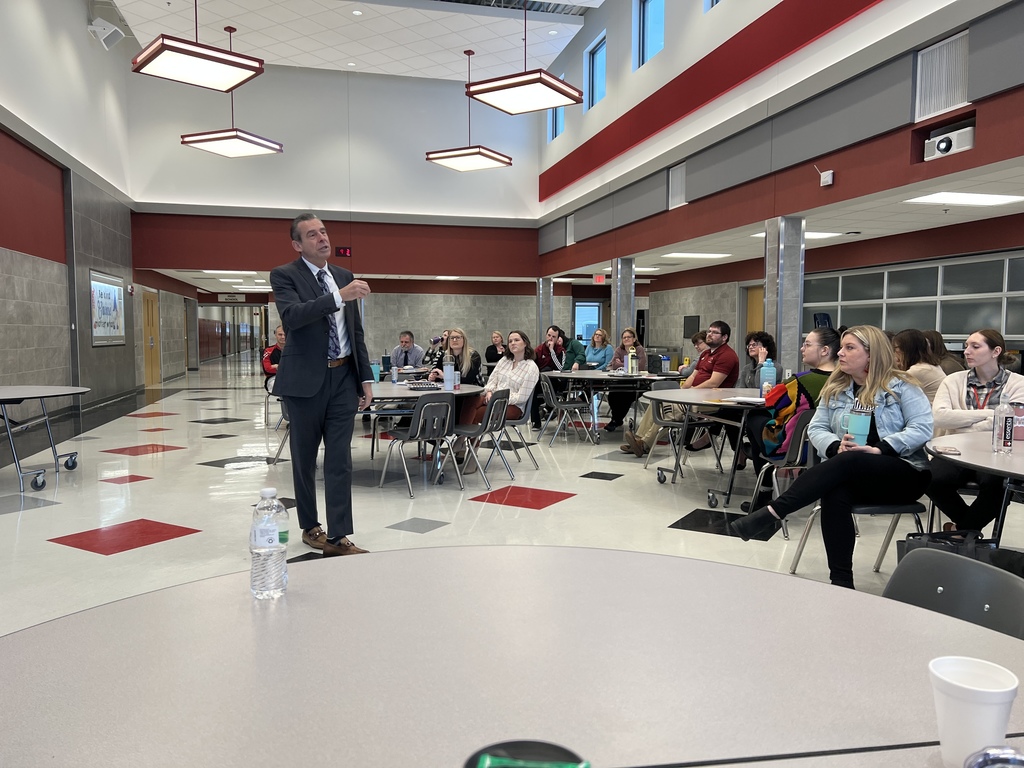 Carrington FCCLA is sponsoring a t-shirt fundraiser for the family of Emerson Skadberg. If interested in supporting Emerson's fight, please consider purchasing a t-shirt by using the order form provided (link below). The forms must be turned into the high school office by Friday, January 13th. Thank you for your support!
https://5il.co/1mxx9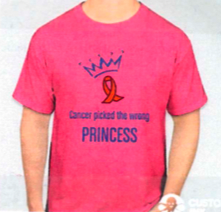 Carrington Cardinal clothing can be ordered from Game One (Formerly Universal Athletics) for the remainder of the school year. See below for more details and the link to ordering. *The store is open 24/7 and will ship to customers in 7-10 days. The store will remain open until the end of this school year. *When items are out of stock they remove it from the website * If you click on a garment and select the blue box that says "view more designs" you can choose from many different art templates
https://shop.game-one.com/north-dakota/carrington
Carrington Elementary is currently completing a STEM challenge! Here are some 6th grade pics! More to come!